China Unicom Prepaid 5G Sim Card with Data & Voice
Nationwide (quarantine) hotel delivery | Important to get a China phone # during COVID-19 pandemic period
Our Best Prices. On the Best Network. Also the Fastest.
Service provided by the most knowledgeable, experienced & professional people.
>> Read more ...
Choose a Prepaid Package Plan
30 Days Package
45 Days Package
60 Days Package
90 Days Package
FAQ: How to order if you buy 2 or more sim cards? You can choose "2 Package plans" or more.
Shipment: We ship to any (quarantine) hotels in China and ship internationally as well.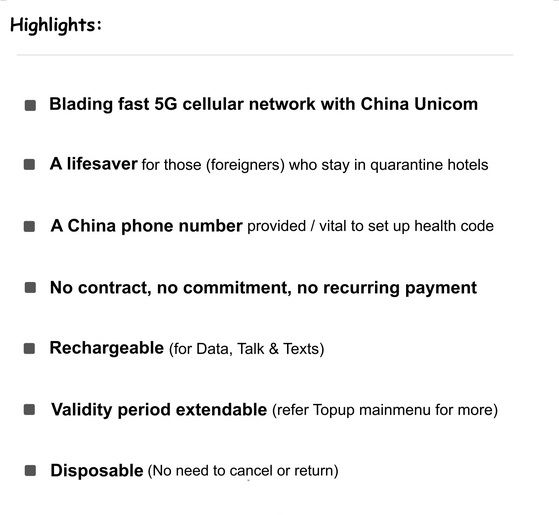 More Information
Customize Tips
[International call credit]
text = International call rate: USA, Canada, Hongkong, Singapore CNY 0.30 per minute / South Korea, Thailand, Malaysia, Russia CNY 0.90 per minute / Macau, Taiwan CNY 1.20 per minute / UK, France, Germany, Japan, Finland, Australia, Hungary, Indonesia, Vietnam CNY 3.00 per minute / Other Countries CNY 3.50 per minute

[Phone / Sim Type]
text = FYI: Nanosim - size: 12 x 9 mm adopted by iPhone 5 & later version, Samsung S6 & later version, etc. Microsim - size: 15 x 12 mm adopted by iPhone 4 & 4s, Samsung S5 & previous version, etc. Minisim - size: 15 x 12 mm adopted by very old phones. Can double check on www.gsmarena.com

[VPN Add-on]
text = Do you know it? In Mainland China, some foreign social websites & Apps are blocked, for example, Google, WhatApp, Facebook, Twitter, Youtube, Instagram, etc. However, VPN can help you to bypass the Inernet Censorship so that you are able to access these blocked websites in China.
Coupon Title
China Unicom Prepaid 5G Sim Card with Data & Voice

<p><span style="font-size: medium;">Nationwide (quarantine) hotel delivery | Important to get a China phone # during COVID-19 pandemic period</span></p>
</br>
<p><span style="font-size: 7rem; line-height: 120%; font-weight: 600;">Our Best Prices. On the Best Network. Also the Fastest.</span></p>
<p><span style="font-size: 15px;">Service provided by the most knowledgeable, experienced & professional people.</span></p>

<span style="font-size: medium;">>> Read more ...</span>
Coupon Text
<div style="padding: 10px; border: 1px solid #fff;">
<p><span style="font-size: medium;"><strong>Important tips: </strong></span>For those who travel to China, especially for first timer, it is important to know about China internet before you come to China. </br> </br>
<strong>1. Coverage:</strong> China has deployed much advanced 5G / 4G LTE networks whose coverage is quite good in most areas. If you use roaming data, your phone auto connects to China's local 5G / 4G LTE network. </br> </br>
<strong>2. Speed:</strong> China owns its advanced 5G / 4G LTE networks and the internet connection speed is decent as is quite amazing considering its large population. But it mainly relates to local websites & Apps. It is a bit slow to access foreign websites & Apps. In this case, to use VPN helps you to significantly improve connection speed to foreign websites & Apps.</br> </br>
<strong>3. Blocked websites & Apps:</strong> In China many social websites & Apps are blocked. Those include all Google products, Facebook, Twitter, WhatsApp (only text works), Instagram, etc. It must be crucial for you to use those blocked websites & Apps. To use VPN can bypass internet block. </p>
</div>
<p> </p>
<div class="info-icons"><span style="font-size: xx-large;"><i class="fa fa-flag"></i> <span class="sr-only"></span></span> </div>
<p>Your Benefits:</p>
<ul>
<li>Avoid expensive international roaming</li>
<li>Obtain a China phone number and inform your family, friends & colleagues before you leave for China</li>
<li>Internet access, talk & text anywhere in China</li>
<li>Access blocked Websites<a class="tips" title="Do you know it? In Mainland China, some foreign social websites & Apps are blocked, for example, Google, WhatApp, Facebook, Twitter and Youtube. However, VPN can help you to bypass the Inernet Censorship so that you are able to access these blocked websites in China."><span style="font-size: medium;"><sup><i class="fa fa-question-circle-o"></i></sup></span></a> in China (Google Map, Gmail, WhatsApp, Facebook, Twitter, Youtube, Instagram ... ) by adding our VPN Add-on</li>
</ul>

<div class="info-icons"><span style="font-size: xx-large;"><i class="fa fa-tag"></i> <span class="sr-only"></span></span> </div>
<p>Simcard Features:</p>
<ul>
<li>Unlimited free incoming international and domestic calls & texts </li>
<li>Blading fast 5G / 4G internet on China Unicom 5G / 4G LTE network</li>
<li>Nationwide coverage (except for Hong Kong, Macau & Taiwan)</li>
<li>Easy use - Plug and play </li>
<li>Easy topup on our website</li>
<li>30 days valid period & extendable</li>
<li> 3-in-1 size fits all phones / WiFi modems</li>
<li>Compatible with most unlocked <a class="tips" title="In some countries, when you buy phone on contract plan, the phone carrier locks the phone to its own network. In this case, you cannot use simcard from other carriers without unlocking your phone. To unlock your phone, you have to contact the phone carrier. If not sure, please check with your home carrier (especially you bought your phone on contract plan)."><em><sup><i class="fa fa fa-question-circle"></i></sup></em></a> phone models <a class="tips" title="Popular compatible phones: iPhone 13, iPhone 12, iPhone 11, iPhone XR, XS, XS Max, iPhone X, iPhone 8, 8 plus, iPhone 7, 7 plus, 6, 6 plus, 6s, 6s plus, 5, 5s, 5s plus, 5c, SE (4G LTE compatible with both GSM & CDMA model). Samsung S10, S10+, S10e, S9, S9+, S8, S8+ (4G LTE compatible with all models); Note 8 (4G LTE compatible with GSM & CDMA; Not compatible with US Cellular); S7, S7 edge, S6, S6 edge, Note 5 (4G LTE compatible with GSM & Verizon, not compatible with Sprint or US Cellular); S5, Note 4, Note 3 (4G LTE compatible with GSM model only, not compatible with CDMA model - Verizon, Sprint, US Celluar); A3, A5, A7, A8, A9; Jmax, J5, J7, E7 (4G LTE compatible)."><sup><i class="fa fa fa-info-circle"></i></sup></a>. Required phone network 5G Band 78 / 4G LTE 1800 MHz (B3). <a href="https://www.gsmarena.com/" target="blank"><span style="text-decoration: underline;">Check compatibility</span></a></li>
</ul>

<div class="info-icons"><span style="font-size: xx-large;"><i class="fa fa-thumbs-up"></i> <span class="sr-only"></span></span> </div>
<p>Why 3G Solutions:</p>
<ul>
<li>English customer support via email, WhatsApp, Skype, Wechat, SMS or phone. No time difference. We respond and fix any issue more quickly</li>


<li>No hiden cost</li>
<li>The most renowned local company serving international travelers since 2009</li>
<li>Trusted and loved by thousands of worldwide customers. <a href="http://www.tripadvisor.com/ShowTopic-g294212-i2147-k5785677-o200-3gsolutions_Pre_paid_SIM_service_Any_reviews_thoughts-Beijing.html" target="blank"> >> Check <span style="color: #000010"> trip</span><span style="color: #00a680;">advisor</span><sup><span style="font-size: xx-small; color: #00a680;"> ®</span></sup>reviews</a></li>
</ul>
<p> </p>
Shipping information:
<p> </p>
<p>
1 days to Shanghai, Beijing, Guangzhou, Shenzhen & Dongguan. 1~2 days to Chongqing, Chengdu.  2 days to Xi'an. 1~ 2 days to most cities in China.</p>

Customize Title
Choose a Prepaid Package Plan
Customize Description
<strong>FAQ: </strong>How to order if you buy 2 or more sim cards? You can choose "2 Package plans" or more.<br/> <strong>Shipment: </strong> We ship to any (quarantine) hotels in China and ship internationally as well.
Customize Airports
[shpvg]
type = both
name = Airport Pick up N/A (Please don't fill in this form)
desc = **Counter temporarily closed affected by coronavirus outbreak worldwidely**)</span>
small_image = wysiwyg/airport-image-empty.png
image = wysiwyg/airport-image-empty.png
street = Shanghai Pudong International Airport (PVG) Pick up location
city = Shanghai
region = Shanghai
region_id = 513
country_id = CN
postcode = 200000