Rent Portable WiFi Hotspot, Pocket WiFi Rental with VPN for Travel to China
Nationwide hotel delivery - Beijing, Shanghai, Guangzhou, Shenzhen, etc | Pick up at hotel concierge upon check-in | Shanghai Pudong PVG airport pickup
Our Best Prices. On the Best Network. Also the Fastest.
Offered by the most knowledgeable, experienced & professional people.
>> Read more ...
Choose Your Rental
1. If start to use in the morning, please set the delivery date one day earlier.
2. Network & speed: China Unicom 4G LTE (fastest among all China carrier networks).
3. Can add more data when in China.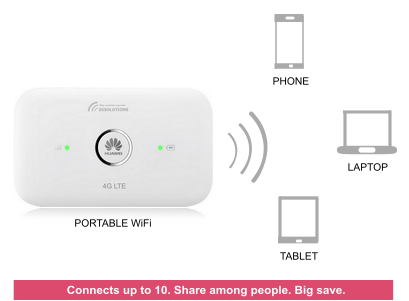 More Information
Customize Tips
[Data amount]
text = It is total amount of data for whole rental period (not daily) and can be consumed freely throughout the rental period. Always fast 4G LTE data. No speed throttling. Can top up extra GBs by using TOPUP main menu on our website when you need more data.

[Refundable deposit]
text = Why refundable deposit? The deposit is only levied to provide us with a degree of insurance against loss, damage & theft of equipments and fraudulent use. It shall be refunded in its entirety to your credit card after rental packages returned. It is definitely safe. No worry!
Coupon Title
Rent Portable WiFi Hotspot, Pocket WiFi Rental with VPN for Travel to China
<p><span style="font-size: medium;">Nationwide hotel delivery - Beijing, Shanghai, Guangzhou, Shenzhen, etc | Pick up at hotel concierge upon check-in | Shanghai Pudong PVG airport pickup</span></p>
</br>
<p><span style="font-size: 7rem; line-height: 120%; font-weight: 600;">Our Best Prices. On the Best Network. Also the Fastest.</span></p>
<p><span style="font-size: 15px;">Offered by the most knowledgeable, experienced & professional people.</span></p>

<span style="font-size: medium;">>> Read more ...</span>
Coupon Text
Why hunt for a Wi-Fi hotspot in China when you can carry one in your pocket? You can rent a portable wifi hotspot (also called pocket wifi, mobile hotspot, mifi or wifi egg) easily from us. With this sleek, portable wifi hotspot, you can connect to internet with your phones, laptops and tablets anywhere in China (Beijing, Shanghai, Guangzhou, Xi'an ...). And because it supports up to 10 Wi-Fi enabled devices, you can share your high-speed connection with friends, family and co-workers.  Just push a button and you're ready to surf, play, blog-whatever!

</br>
</br>

<div style="padding: 10px; border: 1px solid #fff; ">
<p><span style="font-size: 13px;"><strong>Important tips: </strong></span><span style="font-size: 13px;">For those who travel to China, especially for first timer, it is important to know about China internet before you come to China. </span></br> </br>
<span style="font-size: 13px;"><strong>1. Coverage:</strong> </span><span style="font-size: 13px;">China has deployed much advanced 4G LTE networks whose coverage is quite good in most areas. If you use home roaming data, your phone auto connects to China's local 4G LTE network. </span></br> </br>
<span style="font-size: 13px;"><strong>2. Speed:</strong> </span><span style="font-size: 13px;">China owns its advanced 4G LTE networks and the internet connection speed is decent as is quite amazing considering its large population. But it mainly relates to local websites & Apps. It is a bit slow to access foreign websites & Apps. In this case, to use VPN helps you to significantly improve connection speed to foreign websites & Apps.</span></br> </br>
<span style="font-size: 13px;"><strong>3. Blocked websites & Apps:</strong> </span><span style="font-size: 13px;">In China many social websites & Apps are blocked. Those include all Google products, Facebook, Twitter, WhatsApp, Instagram, and plenty more apps you take for granted. It must be crucial for you to use those blocked websites & Apps. To use VPN can bypass internet block. But it is still not easy. The truth is that most VPNs are also blocked and just don't work in China. Even though a few VPNs work most of time (during some special big events period, all VPNs are blocked), there are still tricks how to use them. It is quite frustrating that you just couldn't get it to work even though you use the right VPN which works for others. We accumulated much experience & tips sharing with you.</span>
</br> </br>
<span style="font-size: 13px;"><strong>4. Portable WiFi (Pocket WiFi) Rental & VPN:</strong></span><span style="font-size: 13px;"> No matter which company you rent portable WiFi (pocket WiFi) from, it is highly recommended that you get VPN as well. If the rental company doesn't offer VPN, you have to buy VPN yourself.</span></p>
</div>
<p> </p>
<div class="info-icons"><span style="font-size: xx-large;"><i class="fa fa-flag"></i> <span class="sr-only"></span></span> </div>
<p>Your Benefit:</p>
<ul>
<li>Avoid expensive international roaming. Save big!</li>
<li>Stay connected anywhere in China.</li>

<li>Get more flexible and productive with your China sightseeing or business activity.</li>
<li>Access all blocked Websites<a class="tips" title="Do you know it? In Mainland China, some foreign social websites are blocked, for example, Google, WhatApp, Facebook, Twitter and Youtube. However, VPN can help you to bypass the Inernet Censorship so that you are able to access these blocked websites in China."><span style="font-size: small;"><sup><i class="fa fa-question-circle-o"></i></sup></span></a> in China (Google Map, Gmail, WhatsApp, Facebook, Twitter, Youtube, Instagram ... ) by adding our VPN extra.</li>
</ul>








<p> </p>
<div class="info-icons"><span style="font-size: xx-large;"><i class="fa fa-tag"></i> <span class="sr-only"></span></span> </div>
<p>Rental device feature:</p>
<ul>
<li>Portable: Small & light (half size of your palm & only 75g).</li>
<li>Simple & Efficent: One button up within 5 seconds.</li>
<li>Battery: 6 ~ 7 working hours, 300 hours on standby (extra power bank extends 22 working hours).</li>
<li>Shareable: Connects up to 10 WiFi - enabled devices.</li>
<li>Fastest: Max Download 150Mpbs & Upload 50Mbps . China Unicom 4G LTE FDD network. The FASTEST in China.</li>
<li>Coverage: All over China (except for Hong Kong, Macau and Taiwan).</li>
<li>Flexible: Various data plans suitable for both light & heavy users. </li>
</ul>
<p> </p>
<div class="info-icons"><span style="font-size: xx-large;"><i class="fa fa-truck"></i> <span class="sr-only"></span></span> </div>
<p>Delivery & Return:</p>
<ul>
<li>Hotel Delivery & Return all over China (the simplest way of rental) - Deliver to your hotel concierge or reception and you can just collect it upon check-in. Leave it at same or different hotel concierge or reception before you leave China. </li>
<li>Airbnb, residential and office address pickup & return supported</li>
<li>Shanghai Pudong airport pickup & return supported</li>
<li>For last minute orders: 3 Hours delivery (with extra fee US$15.00) available in Shanghai & Beijing. Same day delivery available in Shanghai & Beijing (order by 10:30am). Next day delivery available in Shanghai, Beijing, Tianjin, Hangzhou, Ningbo & Nanjing.  2 days delivery in Guangzhou, Shenzhen, Qingdao, Xiamen, Zhengzhou, Wuhan. 3 days delivery in Chongqing, Chengdu, Xi'an.</li>
</ul>


<div class="info-icons"><span style="font-size: xx-large;"><i class="fa fa-pencil"></i> <span class="sr-only"></span></span> </div>
<p>Rental steps</p>
<ol>
<li> Order online</li><li>Delivery</li><li>Pick it up and start to use</li><li> Return</li><li>Deposit refund.</li>
</ol>

<div class="info-icons"><span style="font-size: xx-large;"><i class="fa fa-thumbs-up"></i> <span class="sr-only"></span></span> </div>
<p>Customer reviews:</p>

"Highly recommend and used this recently on a trip to China. Great service and had it delivered to my hotel and then left with concierge when I left. Easy to use and would do again."  --- Cheryl Ryan, Australia
<p> </p>

<p><a href="http://www.tripadvisor.com/ShowTopic-g294212-i2147-k5785677-o200-3gsolutions_Pre_paid_SIM_service_Any_reviews_thoughts-Beijing.html" target="blank"> >> Read more reviews on Tripadvisor... </span></a></p>
<p> </p>
Customize Title
Choose Your Rental
Customize Description
1. If start to use in the morning, please set the delivery date one day earlier. <br/> 2. Network & speed: China Unicom 4G LTE (fastest among all China carrier networks). <br/> 3. Can add more data when in China.
Customize Airports
[shpvg]
type = both
name = Shanghai Pudong International Airport (PVG)
desc = **Counter temporarily closed affected by coronavirus outbreak worldwidely**)</span>
small_image = wysiwyg/airport-image-empty.png
image = wysiwyg/airport-image-empty.png
street = Shanghai Pudong International Airport (PVG) Pick up location
city = Shanghai
region = Shanghai
region_id = 513
country_id = CN
postcode = 200000